Ghosts? Invisible entity? Faked?
I am watching some vids about ghosts and so the person who owns the channel blogs and yet one of the videos had them put a light that projects a grkd and in short one of the doors in the footage closes then something that looks invisible and yet you can see a outline and the grid is warping and staying in the same place and a bit before the clip one of their friends was going to use the bathroom and then they screamed (they are also female and they were alone as far as we know) and they said a shadow was walking towards the bathroom door and was trying to open it  and she said it was not hers and she was sure and when they set up the grid light it was fluttering in not sure it was a frame rate thing in the camera but it was not doing anything so the other clip was confusing any answers?
Update:
Ok the update is the link to the video but i suggest you watch the full Playlist they have in order to see the other things that happened skio the parts that are not about the subject. https://youtu.be/tMxCB-UZ0GY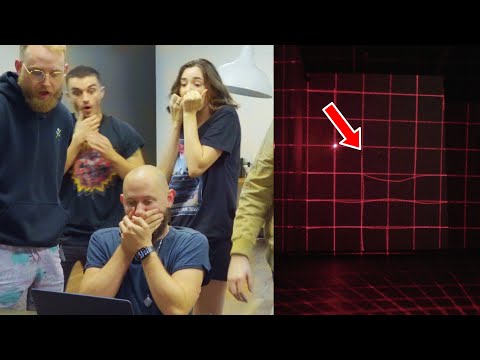 The grid is just the same as the green dots that cover the room. You can get the attachments to fit any laser pen. It is easier to spot something because the grid warps and the spots move if there is some kind of movement in the room that you can't see. I don't know anything about what they call shadow people but they would show up better under the laser than without. Steve Hawkins had a belief in these shadow people but I don't know what to make of them.

Ghosts---The ones that are not Imaginary or hallucinations---such as those detected by sensors or by multiple witnesses, are just manifestations from that body of natural phenomena that our Science cannot account for yet (as we still do not know everything)-------That superstitious people ATTRIBUTE to "spirits of the dead".  Such phenomena we CALL "ghosts" is real, but we really do not know what what causes it or what they are.

If you get a visit of a shadow person, you are paralysed and cannot move.

I can't say for sure but based on the videos I've seen the safe bet is faked. Put up a link to the video, maybe it will change my mind.

What do you think of the answers? You can sign in to give your opinion on the answer.

We've got a ghost of a chicken in our house i think it's a Poultry Geist 

Also some more screen shots

Source(s): Go on yt and search up either Matthias or dope or nope
Still have questions? Get answers by asking now.