The greatest Dunk of all Time?
Do you remember this?......the highlight of Sydney Olympics
http://www.youtube.com/watch?v=f_bajV09SYQ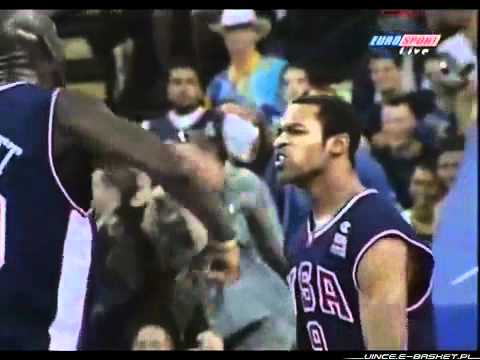 &feature=fvst
Vince Carter:

Over the years, we've seen some pretty darn good windmills and some pretty darn good 360s. But in just one dunk, Vince Carter delivered both a perfect windmill and a perfect 360. I think Jason Richardson's dunk may have been a little more impressive athletically, but Vince's flawless execution and profound impact on the dunking universe vaults him into first place. This dunk kicked off the greatest performance in the history of the contest and was, in a sense, perfect. Carter is considered by many to be the greatest dunker of all time. As you can probably tell, I completely agree.

Michael Jordan:

One of the most famous calls in dunk contest history was, fittingly, about one of the most famous dunks in history. Julius Erving may have done it first, but Michael Jordan's free-throw line dunk was just as iconic. Jordan pulled out all the stops to win the 1988 dunk contest with this legendary dunk. Jordan's ability to fly through the air is unmatched even today.

That was defentily one of the greatest dunks of all time, other ones to consider are when Scottie Pippen destroyed Patrick Ewing, When John Starks dunked aganist the bulls in the 93 playoffs, when MJ dunked on Ewing, Dr.J dunk on the Lakers, and Vince Carter over alonzo mourning.

you dont have to mention it,,,,those who are old enough to witness it know carter just did the greatest dunk of all time

Shaun Kemp had some serious dunks,but I think for me it would have to be something Dominque Wilkins has done,he was an awsome dunker.

What do you think of the answers? You can sign in to give your opinion on the answer.

Yeah this dunk was just epic
Still have questions? Get answers by asking now.