Workout Plan for Tumbling / Cheer / Gymnastics?
I am 19 years old, 138 lbs and 5'2. My heart rate is 63 bpm.
I would like to start training to tryout for Team Canada for Cheerleading.
I need to be able to do the following skills by that time:
http://www.youtube.com/watch?v=pW-ZavtRsmQ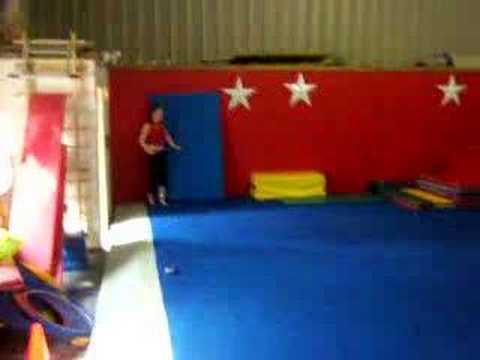 http://www.youtube.com/watch?v=ozPn3-Isbk8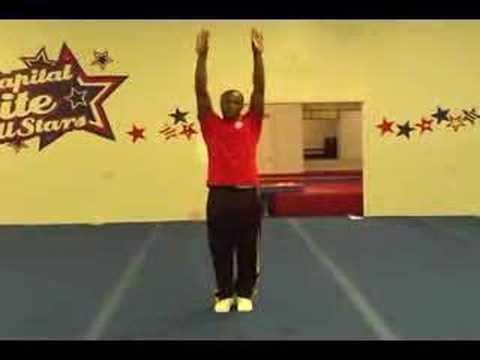 These skills either involve years of learning the motions behind them, or lots of strength. For example it would take the typical girl 2 years to learn these skills, while it would take the typical boy a month. I have been told that this is because the boys are simply stronger.
Therefore, I really need to get much stronger.
I also need to get smaller overall (I need to be liftable). I would like to have a smaller waist (right now I'm at 27 inches and would like to be at 24 inches). Ideally, I would like to be around 115 lbs, but if I look small and am strong enough to do the other things then I don't mind the weight as much.
Thanks!
Hey, If you want to lose weight you need lean muscle mass because muscles in turn burn calories for you. They require the calories to maintain. Follow these steps.

Step 1- Eat every 2-4 hours, This is the hardest part for everyone to do. But you have to eat every 2-4 hrs a meal somewhere around 300-600 calories thats clean, such as Complex carbs which are oats, broccoli, brown rice, sweet potatoes. They take longer to turn to sugar in your blood stream which prevents you from crashing which in turn produces insulin that causes you to store extra fat. You need atleast 8-10ozs of meat per meal or some other way to get around 20 grams of protein a meal. Maybe like a shake, but make sure it has very little sugars and fats. Meat you should probably do is like top sirloin, canned tuna, egg whites or whole eggs depending on your cholesterol and lean chicken. Don't use mayo, butter or anything. If you are going to use sauces like KC Masterpiece or something just keep it light.

Step 2- Work out plan, this is the easy part. You have to find a plan that works for you when you have free time to work out, every day or every other day. 2 popular plans are working out 1 muscle group every day or working out 2 groups every other day. Make sure you can do the movements slowly and steady. You don't have to join a huge gym or anything you just need some free weights and the right technique. Technique is more important overall.

Step 3- Supplements, make sure you are taking multivitamins no matter what. Fish oil is important, Branch Chain Amino Acids, Protein, L-Glutamin and Creatine. Im going to post a link as my source that goes way more in depth than i have the time to type.

Step 4- Consistency, its very important to stay on this diet and plan for a while and not to cheat or skip work outs, it will be hard for you to keep going.

Make sure you check out this link i'm going to put in the sources. The first 2 weeks will be hard to keep doing it but just keep going. You will get stronger while using things like Creatine and lifting more weight, over time you will get stronger.

Log in to reply to the answers

Once you master your first round off backhand spring it should all become easier to learn from there. It's getting over the fear of flipping backwards that is the biggest challenge, but once you learn it, it is so natural (like riding a bike!) you never forget how to do it. I think if your in for 2 years and are dedicated, trust your coach that spots you, and listen to their advice you'll be able to do round off back tucks, back layouts, etc. Make sure you stay in good shape and stretch a lot to avoid injuries! Best of luck.

Log in to reply to the answers

Take time once a few days to plan out and search for meals and snacks so you will be prepared whenever hunger strikes.

Log in to reply to the answers

Follow the 80/20 rule, which means eating clean 80 percent of the time and indulging a little 20 percent of the time.

Log in to reply to the answers

What do you think of the answers? You can sign in to give your opinion on the answer.

Don't just remain there! Do squats while cleaning your teeth, calf raises while standing in line, or lunges while chatting for the phone.

Log in to reply to the answers

When nature calls, use a bathroom on a different floor for making you use the stairs.

Log in to reply to the answers

When nature calls, use a bathroom on a different floor to create you use the stairs.

Log in to reply to the answers

Did you envy your pals that can eat all that they can but they never acquired excess fat? Well, you don't have to do that simply because you as well can modify your metabolism

Log in to reply to the answers

Keep weights in the living room so you can do some reps while watching tv.

Log in to reply to the answers

Vitamin C is vital to helps the body transform fat into energy

Log in to reply to the answers
Still have questions? Get answers by asking now.